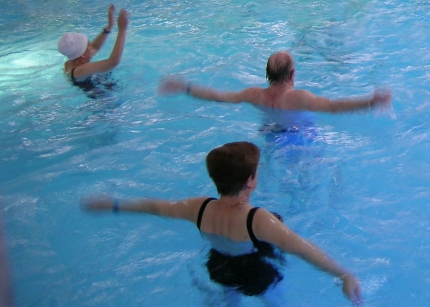 Prescription-free treatment
Do you have any acute complaints, persistent back pain or painful joints, and are looking for a way to specifically address your health problems?
Then come to one of our movement therapy groups.
Here we offer you high-quality health treatment, without doctor and pharmacist, for an extra charge of  only 3 Euros in addition to the price of admission. 

In small groups, with expert instructors you will learn exercise techniques which will have a lasting positive effect on your health.


Payment is made directly via your smart band directly at the pool where your instructor is giving the classe.
There is no need for separite registration.
To keep the spa treatment sessions running smoothly, please make your way to the Klang- and Bewegungsbecken to be there 5 minutes before the session starts.