Sweating a la carte!
No matter whether you prefer the gentle and slow sauna experience or the rapid heat-up, you can enjoy the beneficial fragrances of exquisite natural herbal or blossom essential oils, or simply enjoy watching the cosy wood fire - we have the right offer for every visitor type.
Put together your own personal wellness programme with a choice of 9 classical saunas, 2 steam rooms and a MeeresKlimaSauna 
In the Classic-Sauna area
Finish Sauna (90-95 °C, 10-15 % humidity)
Including regular, brief infusion sessions (scheduled automatically every half hour and manually on each full hour) with a variety of different fragrances. Ideal for vascular training and strengthening the immune system.
Finnish Sauna (90 °C, 5-10 % humidity)
Sauna in its classical form - very hot, but with low humidity! This makes it well-tolerated and ideal for healthy beginners. Without infusions and essential oils, it is particularly suitable for allergy sufferers.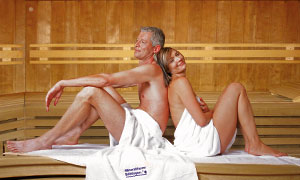 Kräutersauna, 70 °C, 20-30 % humidity)
With specially selected herbal aromas. For all who prefer a milder, more gentle sauna experience, and would particularly like to experience the herbal aromas intensively; depending on the aroma, these have an either refreshing or harmonising effect.
Softsauna (65 °C, 30-40 % humidity)
For sweating slowly and gently. A pleasant, harmonizing effect is achieved with the use of colour-changing (mood) lighting. Here you can unwind and regain strength and energy.
Römisches Dampfbad (45 °C, 90-100 % humidity)
With mild, healthful aromas such as chamomile, mint or eucalyptus. Its highly beneficial particularly inhalation effect makes it ideal for the prevention of respiratory disorders and beneficial for problems of the respiratory tract.
SinnBad (45 °C, 90-100 % humidity)
We warmly recommend this special highlight! Our SinnBad is anything but the average steam room, but a multi-sensory spa experience: the chamber is filled with colour-changing light and colours the visible clouds of swirling steam. Essential oils free the airways. The accompanying relaxing music adds to the relaxation experience, turning the SinnBad into an inspiring oasis of rejuvenation. 
(Programme duration: 12 minutes; it restarts on the full hour as well as every 20 minutes before and 40 minutes after the full hour.
In the Saunagarten:
Blütensauna (70-75 °C, 10-15 % humidity)
In the blissful Blütensauna we pamper you with delightful floral aromas fitting to the season. A feast for all the senses, and the mild temperatures guarantee a gentle sauna experience.
Panoramasauna (80-85 °C, 5-10 % humidity)
With a wonderful view of the extensive and attractive Saunagarten. With gentle background music and pleasant temperatures, this is the perfect place for uplifting your mood and regaining positive energy. There are no infusions and no aromas are used, making it ideal for allergy sufferers.
Erdsauna (95 °C, 5-10 % humidity)
Deeply nestling in an earth hollow, with a wonderfully cosy atmosphere and the magical crackling sounds, you will hear reach the perfect temperature. Just sit back. When gazing at the flickering light of the fire, it becomes very easy to forget about everyday routine for a while.
Quellensauna (90 °C, 10-15 % humidity)
Our sauna master is the master of ceremonies in the Quellensauna. A varied programme with pleasantly inviting infusion experiences and surprises in store. Following this with the refreshing ice well - the wellness infusion in the Quellensauna is the classical highlight of our Saunagarten programme.
Birkensauna (90-95 °C, 10-15 % humidity)
We can recommend all sauna friends to enjoy Finnish sauna infusion tradition in the spacious Birkensauna cabin. Here, sweating becomes an intensive body experience. Suited to the season, you can experience infusion ceremonies with exquisite fragrances and essential oils.
MeerKlimaSauna
In our MeerKlimaSauna you can breathe in healthy air of a type normally only found at sea and coastal regions. The combination of finest salt steam and inonized oxygen is very soothing to the respiratory tract, increases your sense of well-being and is generally beneficial to your health.